Spring Creek would like to celebrate everything Scenic Rim Eat Local Week represents by hosting a FREE Low & Slow BBQ in Beaudesert. Yep, you read that right! FREE food, drinks AND entertainment!
On Sunday 3rd July from 11:30am to 2:30pm 2m8's BBQ will be serving up a FREE delicious Low & Slow BBQ and local musician Nigel Stephens will be singing some tunes while you relax on haystacks or on your own picnic blanket.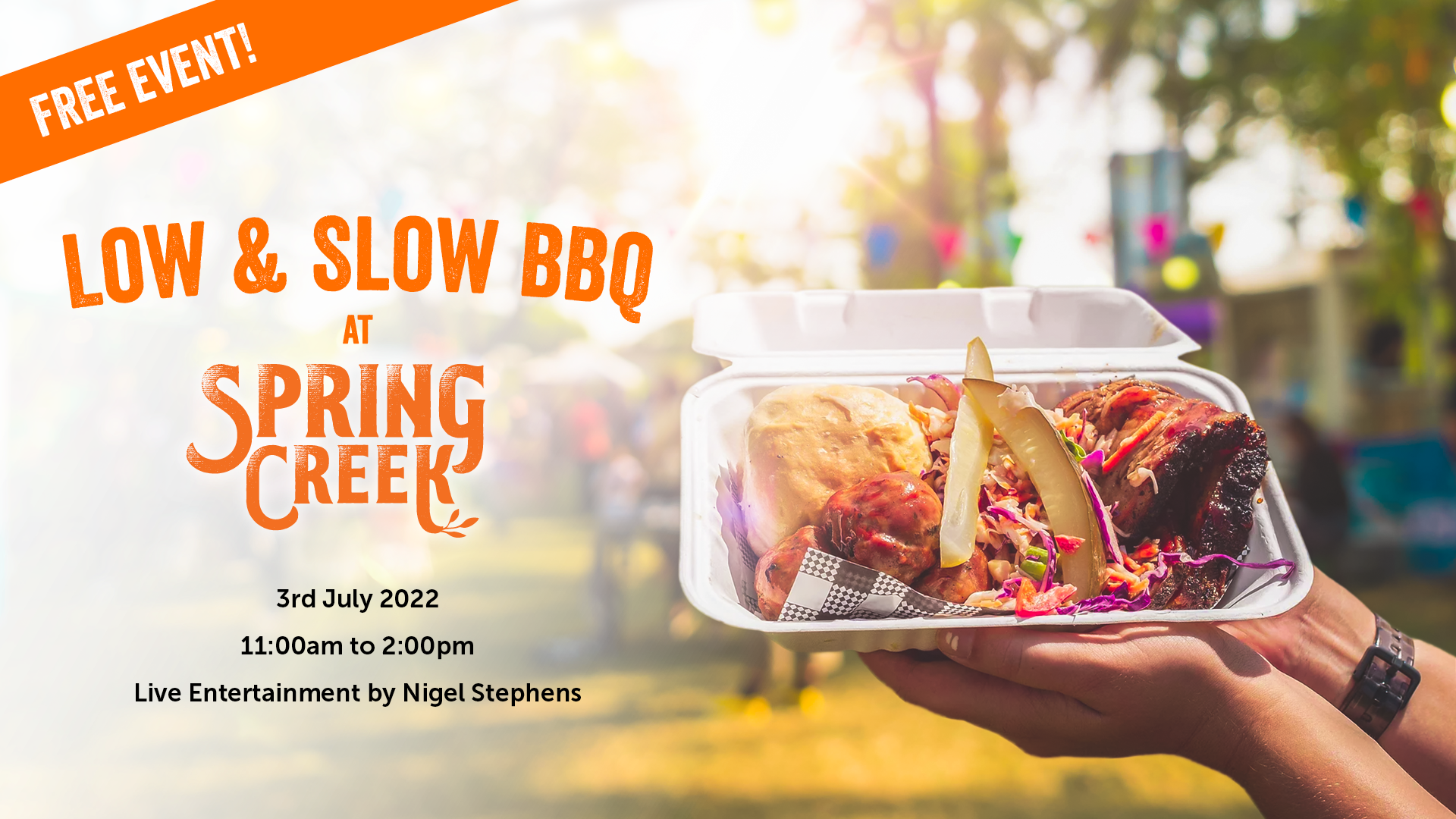 2m8's BBQ are the local Scenic Rim low and slow experts, providing American style BBQ from their smokehouse in Kalbar, as well as offering catering to the surrounding areas. For our free Eat Local Week Event, 2m8's BBQ will be dishing up the following mouthwatering food: PORK BURGERS | BRISKET BURGERS | WINGS | CHEESE KRANSKY | PORK MEATBALLS | SOFT DRINK & WATER

We are thrilled to announce that local acoustic folk rock artist Nigel Stephens will be performing live! Nigel has had a passion for live music since he started playing 30 years ago, with influence from artists such as Bob Dylan, Neil Young and Paul Kelly. Nigel has developed his own unique style combining acoustic guitar, vocals and harmonica.

Spring Creek, Lot 2, Gunsynd Drive, Beaudesert QLD 4285
Sunday 3rd July 2022
11:30am to 2:30pm
FREE food, drinks and live entertainment
We will also be opening our BRAND NEW Display Homes! If you are in the market right now looking for a beautiful new home for you and your family, then you must visit Spring Creek and inspect these amazing Display Homes.
This event is part of Scenic Rim Eat Local Week where you can eat your way around the region through a program of festivals, farm-gate events and culinary experience. Eat Local Week has something for foodies of all ages, from free and low-cost activities for children and families, including farm tours and cooking classes through to exclusive dining experiences hosted by some of Queensland's finest Chefs. This festival of food and farming runs during the first week of the Queensland June-July school holidays at various locations around the Scenic Rim region. You can find out what other events are happening for Scenic Rim Eat Local Week here.
Planning on heading to our FREE Low & Slow BBQ? Grab a FREE ticket to secure your spot!